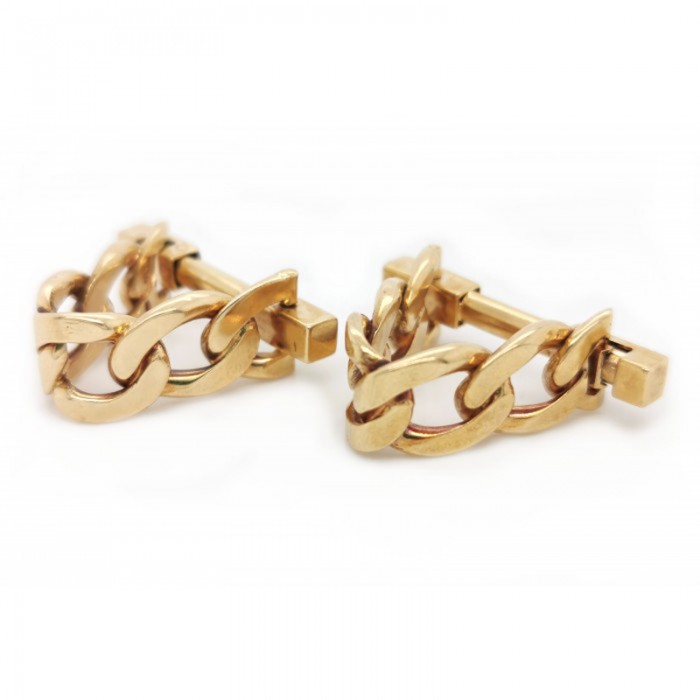 
Gold Stirrup Curb Link Cufflinks, Circa 1990
A pair of gold, flattened curb chain, stirrup cufflinks, mounted in 18ct gold, with sprung fittings, made in Italy with 750 and 1216AL Italian marks, circa 1990.
Data sheet
Period

Circa 1990

Metal

18ct gold

Approximate Measurements

Terminal length 27mm, depth 21mm, width 9mm, approximately.

Country of origin

Italy
A pair of stirrup cufflinks, mounted in silver and gold, with French marks.
A pair of ruby stirrup cufflinks, set with square-cut rubies, in channel settings, with sugarloaf rubies in the terminals, mounted in 18ct yellow...
A pair of Van Cleef & Arpels stirrup cufflinks, with reeded engraving, mounted in 18ct gold, with white gold fittings, signed V.C.A, numbered...
Here you can add custom original content(text, images, videos and more) for each product page.

Pay by Visa, Mastercard and Amex via Worldpay.

Proud Members of The Association of Art & Antiques Dealers